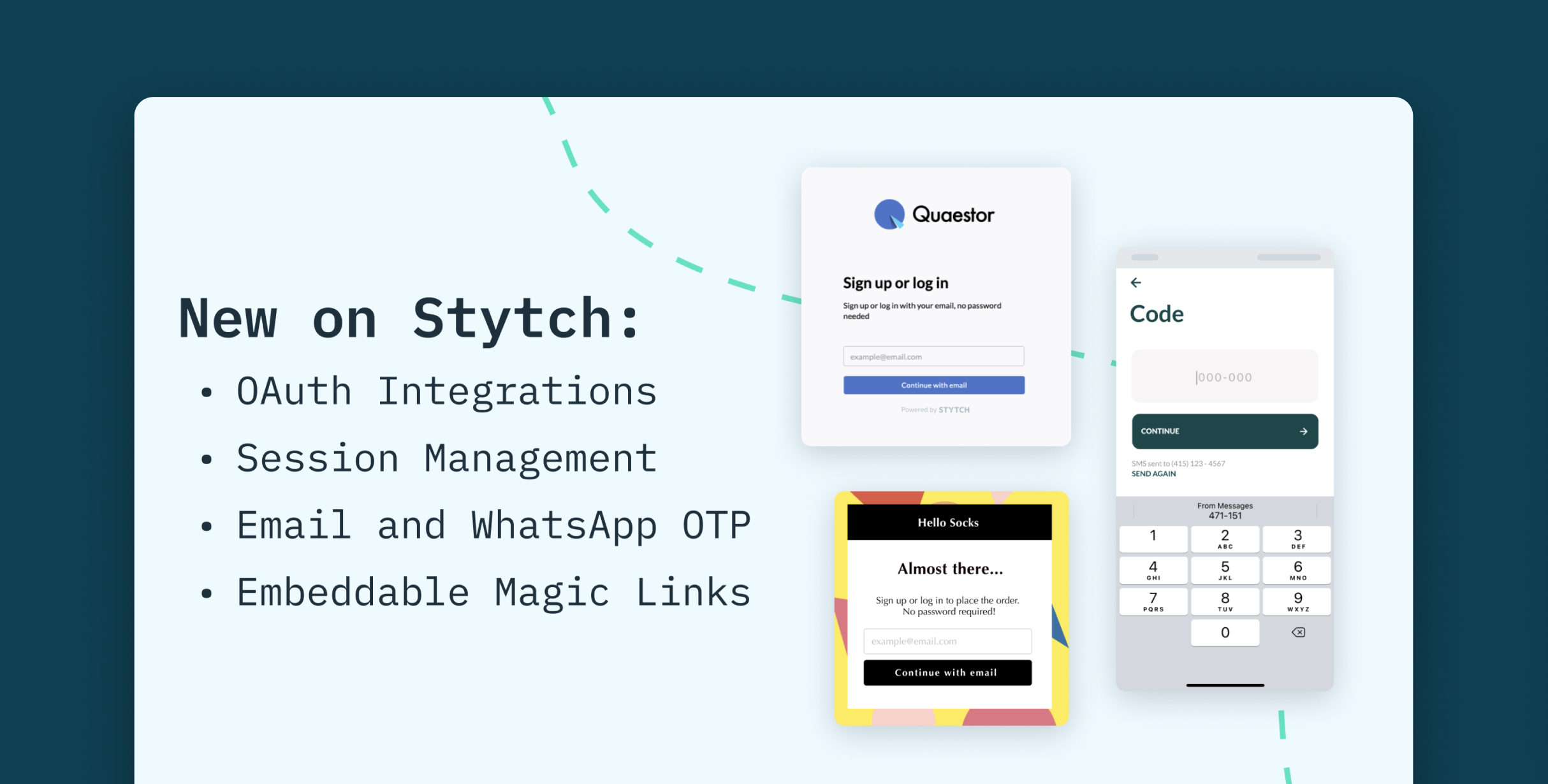 DATE:

AUTHOR:

The Stytch team
DATE:
AUTHOR: The Stytch team
In case you missed some great updates we made this quarter, here's a summary of everything that's new...
🚢 Product
OAuth integrations
We launched OAuth integrations to beta, starting with Sign In with Google and Microsoft. We have a detailed guide to help you get up and running here. Got any thoughts or feedback for us? Email support@stytch.com!
Embeddable Magic Links
You can now embed magic link authentication into any customer communication channel (SMS, email, WhatsApp, etc.) to always provide a logged-in experience to users. Whether you're sending a promotional deal, a cart abandonment recovery attempt, or an account management notification, Stytch EMLs can boost your customer engagement conversion up to 300%. Explore our docs to learn more about the feature, and shoot us a note at support@stytch.com if you'd like to get access to it.
Session Management
We launched Session Management in public beta! If you'd like to try it out, check out the integration guide, and if you'd like to give us some feedback, simply email support@stytch.com.
Email and WhatsApp OTP
We launched support for sending OTP codes via email, SMS, and WhatsApp to enable you to engage with and authenticate your users, wherever they are. Learn more here in our Docs.
🤝 Integrations
We've made it even easier to get up and running with Stytch and Next.js. Check out our example app here, and read about how we built it in our blog post.
💡 Community
We launched 25 partnerships with VCs and accelerators
To learn if you're eligible for a Stytch VC/accelerator discount, reach out to support@stytch.com.
We expanded our developer relations team!
We're thrilled to have Chris join us from Plaid to lead developer relations. Chris, in his own words, is "excited to help make Stytch the obvious user infrastructure choice for developers". Feel free to say hi to him in our Slack community!
🎙 Content
Missed any of our recent podcasts?
Catch-up on our top 3 blog posts in Q3!
Lots of more exciting things are coming up in Q4, so stay tuned! In the meantime you can always reach out to us in Slack or support@stytch.com with any questions, thoughts or feedback!