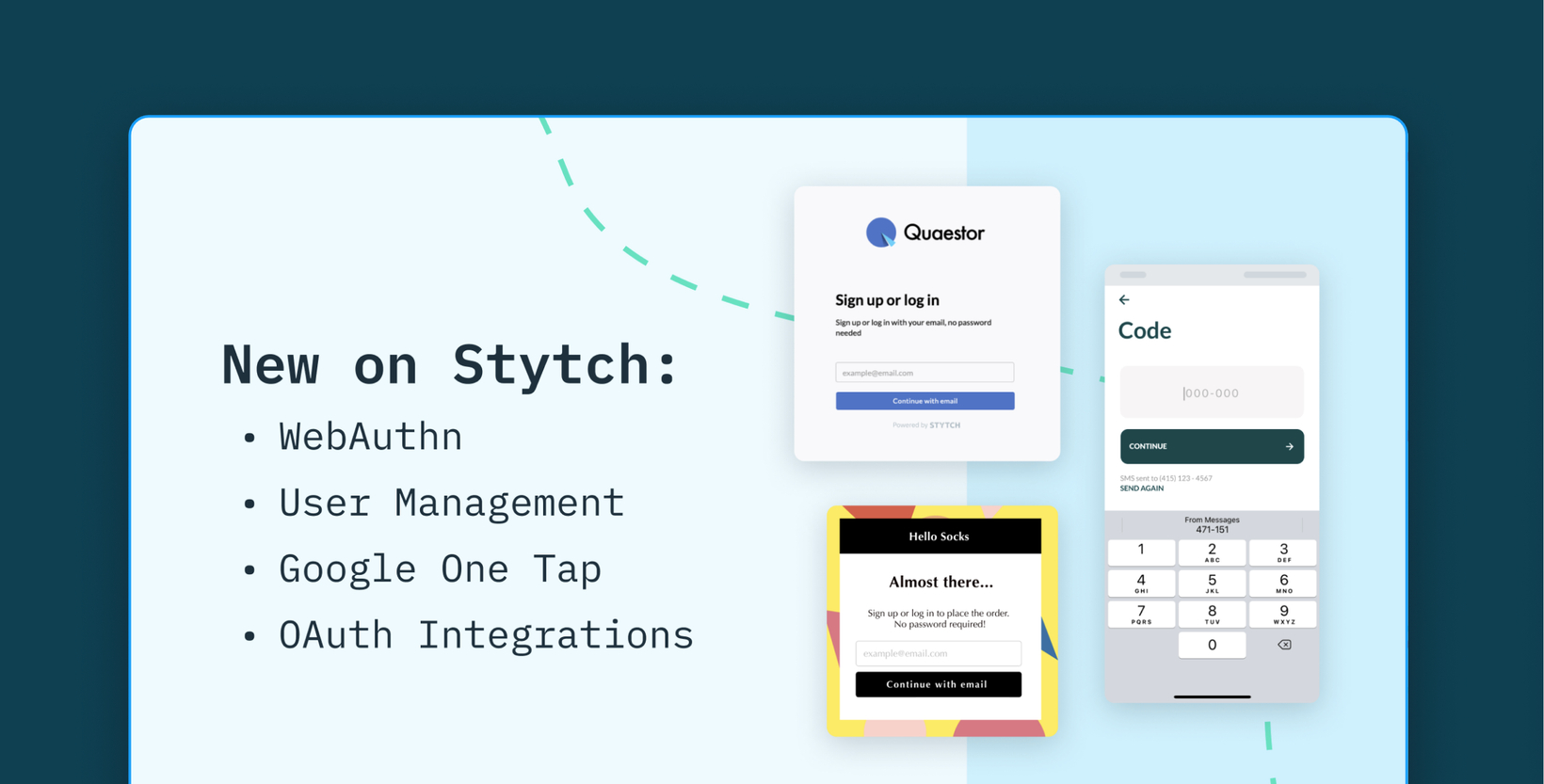 DATE:

AUTHOR:

The Stytch team
DATE:
AUTHOR: The Stytch team
Happy New Year to everyone! We've come a long way in 2021, and we're excited to reflect on all that happened in just Q4 alone. In case you missed some great updates we made this quarter, here's a summary of everything that's new...
🚢 Product
WebAuthn
We launched WebAuthn to beta, and have put together a blogpost and a detailed guide to help you get up and running. Got any thoughts or feedback for us? Shoot us a note at support@stytch.com or Slack!
OAuth Integrations
Sign in With Apple and Sign in With Microsoft are now available via our API and SDK. Take a look at our docs to get up and running, and don't hesitate to reach out if you have any questions or feedback. We're also building additional OAuth integrations in Q1 and would love to hear your feedback on ones that you'd want to see us build!
Google One Tap
We launched Google One Tap, a passwordless technology that can significantly improve sign-up and login conversion for desktop and mobile-first applications. Check out our latest blogpost on Google One Tap here!
User Management
User management is now live in the Dashboard! You can view your users and information associated with them.
SMS Passcodes
We've also added SMS Passcodes support to 16 new countries: UK, India, Spain, France, Peru, Germany, Australia, Israel, Netherlands, Mexico, Indonesia, Brazil, Japan, Singapore, Bermuda, and Italy.
If you'd like us to add support to any additional countries, please shoot us a note at support@stytch.com.
Session Management Launch
We released our beta for Session Management in Q3 and after some great feedback from early adopters, we've launched it out of beta! We're continuing to invest in building out new functionality here, if you have any requests, drop us a note at support@stytch.com.
🤝 Integrations
Vercel: Check out our example app here. Just click Deploy with Vercel, fill in your environment variables, and you're ready to go!
💡 Community
We've launched on Product Hunt
We were excited to share everything we've been working on over the last year and a half with the Product Hunt community earlier in December. Feel free to check out our Product Hunt page, drop any feedback or questions you might have, and redeem your $5k in Stytch credits.
We're now partnering with 45+ VCs and accelerators
In Q4 we almost doubled our VC and accelerator coverage to help even more startups get up and running on passwordless authentication through Stytch credits. To learn if you're eligible for a Stytch VC/accelerator discount, reach out to startups@stytch.com.
🎙 Content
Missed any of our recent podcasts?
Catch-up on our top 3 blogposts in Q4!
Lots of more exciting things are coming up in early Q1, including our first Web3 product, so stay tuned! In the meantime, you can always reach out to us on Slack or support@stytch.com with any questions, thoughts or feedback!
From everyone at Stytch, happy New Year!
Cheers,
Reed & Julianna